Phil Collins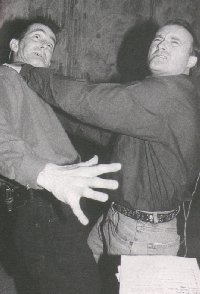 In October Ray Cokes did an exclusive interview with Phil Collins for VH1 (yes the same VH1 he was making fun of almost every show :)... The interview was broadcasted October 16th. For more information about Phil Collins check out his biography.
Phil Collins; a short biograph
Philip David Charles Collins, lieutenant of the Royal Victorian Order, was born at 00:05 on 30th January, 1951 in Chiswick, London, England.

In 1969 Phil is an eighteen years old drummer from Chiswick who loves, beside drums, also cinema and theatre. He reads on Melody Maker that Genesis, a band which is having a lot of success after the disk Trespass, is looking for a new drummer familiar with acoustic music. He answers and a beautiful pop fairy tale made of success, money and songs begins. Collins remains Genesis' drummer from Nursery Crime up to The Lamb Lies Down on Broadway (1975) when Peter Gabriel, voice, mind and myth of Genesis leaves.

A quest for a substitute was not an easy task. At the end the survivors realize that they already have the new Gabriel in their family: it is the drummer Phil Collins himself who, up to then, remained in his ranks and who now finds himself invested by a new and exciting responsibility. Genesis are reborn again with Trick of the Tail (1976) and Phil becomes their new leader.

In the meantime Collins is hyper-kinetic, musically speaking, and divides himself between Genesis and many other projects. But it is during the 80's that Phil decides definitely to give free outlet to his mood as a soloist singer. Face Value (1981) is published and at least two singles make it to the Top Charts. Afterwards, it's time for Hello, I must be going (1982) and success comes again. Then (1983) he composes the lyrics for the movie "Against all odds", and it's his first Grammy. In 1985 No Jacket Required is out. As a special guest there is, besides Sting, also Peter Gabriel and, for a while, the dream of Genesis seems to find back old emotions.


A long break as a soloist singer follows and Phil takes advantage of this to reform Genesis and composes for movies. The soundtrack of Buster (1988) is really nice but the film is important mostly because Collins is the main actor. The same happens a few years later for an episode of Miami Vice. At the end of the 80's his fourth album as a soloist, But Seriously (1989), is released. This is followed by a world tour. The album features a great set of collaborators: Eric Clapton, David Crosby, Steve Winwood. Afterwards it is time for Both Sides (1993), 11 songs written and sung by Phil and registered in his home-studio in Sussex. Phil says that he is enthusiastic for the whole job. A year long world tour stretching from 1994 to 1995 follows. In 1996 he performs a mini tour (Montreux, Antibes, Perugia) finding again the appeal of the old jazz and rearranging many of his songs with a Big Band featuring Tony Bennet as special guest.

Singer, songwriter, musician, producer... in the course of a career spanning over 25 years, Phil Collins explored a variety of sounds and rythms, from rock to jazz, from soul to pop. Now, for his first album in three years (and his first since leaving Genesis), Dance into the light (1996), the six-time Grammy Award winner is once again exploring fresh musical and lyrical terrain.

"Both Sides was a very personal, sad, dark album, if you like," he says. "This new record is a turnaround in that it's really up and optimistic, which is the way I feel at the moment." In contrast to the last album, which Phil recorded entirely on his own, this
brilliant and diverse new set finds him in the company of his extraordinary live band, featuring Daryl Stuermer (guitar), Nathan East (bass), Brad Cole (keyboards), backing vocalists Amy Keys & Arnold McCuller, and new addition Ronnie Caryl
(guitar). A mature work that's equally adventurous and accessible, may the new album begins another remarkable chapter of the Phil Collins story?