Ray in Cologne
Most Wanted Adventures LIVE from Cologne – 17th August 1995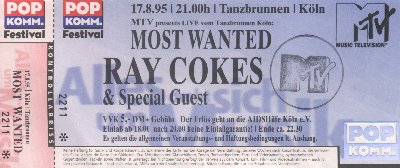 When Ray announced that there will be a special Live-Gig from somewhere in Europe my first thought was: "Yeah, yeah, who knows where this will be then. Somewhere far away." But.... it came better and better: On Thursday, August the 17th 1995 we will be in
Cologne to bring you a Most Wanted live from Cologne, that's why we're going to Cologne. Otherwise it would be called live from Berlin.I was really amazed at that moment, what Cologne ? Wahey, phantastic, that's great. Just one hour away by train or car from my hometown. That's it. Whatever it takes I must go there. Now or never, it's THE CHANCE to see "the man of the people, friend to the stars" and his lovely Most Wanted crew live on stage. Nothing can stop me from seeing this gig of the century live.

That was really what I believed at that moment. Then he told: We will be there and it's room for at least 3 or 4000 of you. But don't tell anyone, because we have here at MTV's Most Wanted about 300 front row seats, well, not so much seats as standing area for you, the real Most Wanted Viewer. We want you right up the front so that we can look straight down your.... NO! So that we can spit on you.... NO! So that we can send Nina out to kiss each and everyone of you individually. It's as easy as phoning us up. Here is the phonenumber.... Hey, nothing easier than that to phone just a number. I
was running immidiately to the phone, dialed and .....tried and tried and tried to come through. But....there wasn't a come through. Line engaged all of the time. But there must be a way somehow ?!? Do I have the right phonenumer ? Yes, the number is correct. So finally after around the 600 try sometimes in the middle of the night I've finally succeded, left my name and my phonenumber on the answerphone and was happy. Phew, really hard work that was. The next days I've spend the most time in waiting before the phone in hope that MTV calls me back. But - noone called me back. I've
send a fax to MTV and asked if I will get a freeticket or not or whatever. Nothing, no reaction at all. MTV eh ??? O well, they can do what they want but they won't stop me from going there. So I thought the best to do would be to travel to Cologne a little bit earlier at the day of the show to make sure to get a ticket in time. The only problem was that I didn't thought much about where to get one. Don't know the city of Cologne that much.


Arrived in Cologne at midday I went to a record-shop – sure - they should know about where to get tickets. Well, they have send me to the next shop and so on and on. Noone seemed to know anything about it at all. But there must be someone anywhere in Cologne who knows about such an important show. I went, went and went through the whole city of Cologne and after 3 or 4 hours running from shop to shop I suddenly was
the proud owner of a ticket for 5,50 (DM), which isn't really very much money and I couldn't believe it. The sun was shining - 30 degrees outside, it was a hot summerday, a perfect day with perfect weather and after a little bit of sight-seeing, I went in the evening across the Deutzer bridge to go to the other side to look where the place – called the "Tanzbrunnen" would be and where it all would happen in a few hours.

At the "Tanzbrunnen" (many people there) we've all had to go through the security at the entree. They really bodysearched us all to make sure that noone has got anything to throw. And... it was not allowed to take any photos during the show – so unfortunately can't show you one. The "Tanzbrunnen" is a big place outside and it looks like a park with many waterfontanes and flowers. A big stage is outside for all kinds of entertainment and it's near to the rhine. I saw the special place with the front rows, which Ray was talking about on tele a few days before. But this place was totally
isolated by the security people of MTV, which controlled each and everybody looking after the special tickets. Without these special tickets there was no coming in to this area. It looked very bad for me with my "normal ticket". I was standing before that place and waited that something would happen. And .... it seemed that it would be my lucky day. A few minutes before the show started the area with the special Club-Bed wasn't filled enough by people and suddenly I discovered that the security also has let people in with normal tickets, to get the area full somehow.

Now I ask you: For what do you need MTV if you can make it all on your own, eh ??? After asking friendly one of the securityman if I also please please could go in I was in the special area in Club Bed within 2 seconds, wahey ! irst Gorgeous Georgia came on the stage to explain to Club Bed how we all should react for the cameras when "Clean our Souls" would go on, including all the special "Uuhs" and "Aahs" and "Ohhs". After that a black-man came on stage to give us a special warmup. And this was really a special warm up, I can tell you. Never have seen something like that before. This guy was really very good and knew how to handle an audience. He made us dancing,
clapping and screaming at the same time and exercised with us the special introsong – remember the idea with the Outhere-Brothers-Joke – the "Boom Boom Boom let me hear you say Rayo". At this point the mood of us all was totally exited. You really could feel the heat inside Club-Bed phew. Everybody was really very exited about what's to come and everything. The mood was unbelievable good.

Then the big moment came we all has waited for so long. The "Greatest Hits on MTV" were over, on a huge screen beside of the stage we saw Ray driving on his red Dukati in front of the "Tanzbrunnen", then the Most Wanted Titles were played, but.... no sight of Ray anywhere. Everybody in the audience asked where the hell was he ? What happened ? What was going on in here ?

The Music started and suddenly - like a "Big Bang" – he was driving on stage on his red Dukati and stopped straight before us. An unexpected moment. Everybody was screaming, shouting and applauding like mad and crazy for 2 minutes – "RAYO RAYO"....standing ovations for a man who really deserves it. For me personal this was really the most exiting and the best moment of the whole show, yes it was and if I close my eyes right now, I can see the whole sequenze again in my mind like it was happening yesterday. =:->

The show started with Ray singing with us together in chorus "Boom boom boom let me hear you say Rayo – Rayo !! Great was also when Ray introduced "Rob – the man formerly known as Rob the cameraman, Andicam and the one and only, beautiful, nicest girl working anywhere in showbiz naughty nympho Nina and when we all shouted "Nina, Nina, Nina"....The Underwear/everywhere photo from Roger Lievenhagen taken live before Cologne-Cathedral from Meat Loaf and Die Fantastischen Vier and, and, and The Goody-Bag competition where someone could win a car - too many good moments to mention. The whole show was unbelievable good and if you haven't watched it on tele – I can promise you - you really missed something exiting. Everything was perfect that day. After the show was over and most of the people were gone, the whole place looked really like a mess with all these broken plastic-cups lying on the ground from people drinking something before. And guess what - who were the only person now on stage ? It was Rob the cameraman signing autographs for all the girls. Yeah yeah, yeah, really he did.

Well - after this exiting day I was really tired and had to go back to the station to get my train back home by time. In the train the only thoughts I could think at that moment were: What a great wonderful phantastic day and I will kill my videorecorder if it didn't taped it all. Arriving at home at 1 o'clock in the morning, feeling tired and happy at the same time, I couldn't resist to watch the whole show again on tape until 3 o'clock in the morning. Wow, it's really a difference to watch it all live and to be there or to watch it on Tele – somehow you can see it all from another perspective, it's the same show but it looks different. Unbelievable. Sorry that I take so long but the punchline is yet to come and on it's way. The next day I've looked into my postbox and guess what I've found there: MTV has send me 5 freetickets first row for the show. Ha Ha Ha. Unfortunately I've received them all only 1 day too late. O dear.

But after all I can proudly say: Yes, I was there at this exiting historical moment - at the gig of the century - and I really would do the same again and again to run 4 hours through a city just to get a simple ticket for 5,50 Deutsch-marks only to see Ray and his crew again live on stage. It was really worth it.

Thanks very much from the bottom of my heart to Ray and his Most Wanted Crew for this unforgettable show.

A special thanks goes out to Sonja Ehlen for taking time to send us her input.