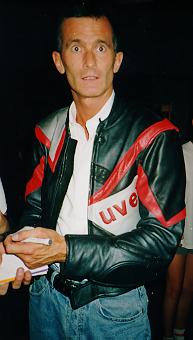 Ray signing autographs
Fan's Corner
Hello boys ('n girls) !
One of our main goals is to unite Ray Cokes fans from all over the world. These pages are made just for that purpose.
If you'd like to read what other fans have to say about Ray or this site you can visit our very own guestbook. Of course you're always welcome to sign it as well. We know that Ray frequently visits our guestbook and reads all messages posted there.

If you like, you can send an email to Ray. Ray's email address is rcokes@hotmail.com.

There's also Fans Report, that contains Ray related stories which have been sent in by you; the visitors of this site. Please do not hesitate and join in the fun: Mail us your funny, interesting, crazy, sick, wicked, wild, massive, cool and readable Ray Cokes stories.
And have you already visited our Ray Cokes Online Club at Yahoo? It's mainly used as a bulletin board between the fans (and of course the editors join in too)

If you'd like to chat to other Ray Cokes fans all over the world then participate in our Ray Cokes Online Chats! Details about reaching our chatroom are on our Chat page. Together with logs of previous chats and an introduction to the regular chatters. The next chat date will be announced on the frontpage.