Ray's Request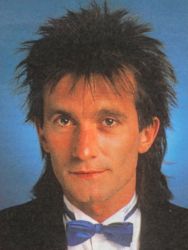 After presenting several shows for both radio and television throughout Europe, Ray was one of the first to join MTV Europe in 1987. Funny man Ray Cokes started his European television career doing Ray's Request.
Ray Cokes and viewer's requests that was the simple concept of Ray's Request. Ray's exciting way of presenting and his down to earth personality made Ray and this show popular.
On this show Ray, the rebel, threw his script and MTV's motto "Better safe than sorry" through the window. He simply followed his own feelings and thought up most of his witty remarks on the spot.
Every week Ray received 500 to 1000 letters a day and he made a point out of it to read and answer them personally. The most interesting letters were picked and read out loud during show in front of millions of tv viewers.
Ray's star rose and finally MTV offered him a big show: MTV's Most Wanted.