MTV's Most Wanted

MTV's Most Wanted started on 14th of April 1992. Every Tuesday to Friday Ray offered a lot of viewer interaction, funny jokes, live music, famous guests, crazy competitions... In the beginning it was a lot of crap. At the end it still was, but by then the popularity of the shown had reached enormous proportions. The end was announced as "quit while you are on top". It ran for four years and the final show came on Dec 15 1995. But Ray would be back soon...

"Welcome to history boys and girls, ladies and gentlemen. Because this is the beginning of a new era, the beginning of a new series here on MTV. It's called MTV's Most Wanted. We wanted it and you got it. NO! You wanted it and we got it!", that's how Ray started the very popular Most Wanted on April, the 14th 1992 at 20.30 CET. Most Wanted was very unusual: It was major crap, but it was also very funny.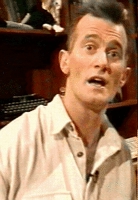 The show was a cocktail of entertainment with live music, quickfire competitions, viewer interaction and Ray with his crazy crew of cameramen, producers and soundmen. The crew members were treated as part of the family. Do you remember Andy (Andicam), Rob (Eééévening) and Craig the cameraman (Hello Europe!, QVC)? There were also Tracy (The tyrant), Timmy (The tea boy), the assistants and Alain (the Dictator - Director).
Brought live from MTV HQ in London, Most Wanted managed to bring a smile to millions of European viewers: 60 million viewers across 38 countries to be exact. Not even the most terrible circumstances of war prevented people in former Yugoslavia from watching the show and laughing with Rays often repeated jokes.
Most wanted started out as programme with a simple concept: a show where viewers could request a video. Although financial resources where limited the shows popularity increased rapidly as a result of the successful concept and Rays unique and open style of presenting.
In November '92 Most Wanted had it's first major highlight: MTV's Most Wanted Weekend. Special Guests included Sting, Right Said Fred, Shane McGowen & Nick Cave. One major highlight: Hypnotising the MTV VJ's.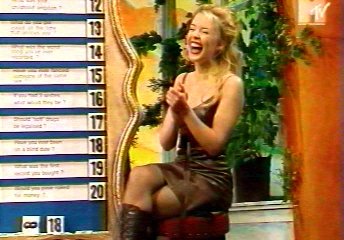 The bingo wall of death was introduced during the second year. Björk was the first victim: she had to undergo it without the balls and without the big board (it wasn't ready yet). Take That were the last ones. The questions ranged from "Do you believe in UFO's?" to "Did you ever have sex in a public place?". It was auctioned off during the last charity auction.
The second Most Wanted Weekend (20-22 Nov. '93) came a year after the first one. It was bigger, better and madder than the year before. Special guests were Crowded House (They composed a new song, painted & performed a 30 minutes live set). There were live cameras in 2 Hard Rock cafes, Davina came live from Camden Market on Saturday and she visited a big fan in Germany on Sunday. There was also a lot of fuss about Flossy the sheep. And the major highlight was the very special night edition. That edition included a strange quiz with daring stuff, like putting a condom on a cucumber and Ray on the Bingo Wall of Death.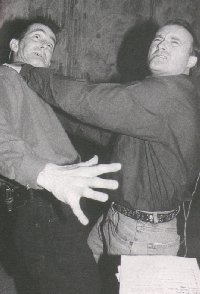 Specials during those first 2 years include: The Cure - Live concert, a Phil Collins Special and Most Wanted meets ZOO TV. Ray was also replaced many times because of other engagements (like Cokes in Cannes, Hollywood weekend, Ray in search of Madonna) by Angelo Abela (Ray's regular replacement), Maiken Wexo, Steve Blame, Curt Smith, Meatloaf, Robbie Williams and Mark Owen.
Tuesday, the 1st of February '94 meant not only a new starting hour (21.00), but also a new set (the hotel set) for Most Wanted.
Raywatch (21/4/95) was a special "end of season" edition with a special beach flavour. Ray said goodbye to Rob, the camera man (he plays one of the main roles in the main storyline - he was supposed to be eaten by a shark)

Tuesday, the 23rd of May 1995 has gone into MW history books as "the big change". Most Wanted is back (for the pre-last series) with crap and total madness, but this time Wicked Will (right pic) takes control. He brings the show to a whole new level with loads of new ideas: live public (Club Bed), devil Ray, Internet Ray Chat (IRC), Clean Our Souls (get rid of memorabilia from ex lovers), Underwear Everywhere, etc... .
On Friday the 2nd of June 1995 Most Wanted would witness the biggest chaos yet. Take That were in the studio and many hundreds of girls were going absolutely mad outside. Inside it was the same: the phone lines went down, the competition went wrong (it took ages to find the answer) and the Bingo Wall of Death was one question too many ("Would you pose naked for money?" made Robbie show his bum for 10£. Ray went down with disbelief and the papers had a nice new headline!).
The greatest Most Wanted moment for everyone (certainly for me) was the live edition from Cologne/Köln (17th August '95). It didn't only have an incredible audience, it had good music too (Therapy? and Die Fantastischen Vier). There was also an "Underwear Everywhere" in front of the Cologne Dome! Do you remember the uplifting competition and the big bang (Clean our souls)? It was Most Wanted at it's best! The day after, Ray ended the pre-last series with a big hangover.
During 1995 Ray was absent twice. The first time he was replaced by Davina (I forgot the reason) and the second time Lisa I'Anson took control. (Ray was sick for 3 days)
Most Wanted ended with a bang on December 15th 1995. Ray had his good friends 'The Cure' playing live in the studio and there was a surprise call from Bryan Adams and a surprise visit by Björk. The set was taken away and we met some of the old crew members. "Private Parts" meant a revenge on Wicked Will and Ray : Will lost his "nice" underwear and Ray lost a special computer game. Ray almost broke in tears at the end, but it ended great: Ray played live with the Cure.
Goodbye Ray, Naughty Nympho Nina, Andicam, Curtis, Lincoln, Pathetic Pat & Wicked Will!!!
Ray has done many end of series with Most Wanted. Do you remember these ones:
| | |
| --- | --- |
| | The Alien Abduction |
| | The crap police arrests Ray |
| | Singing "Deep" with East 17 |
| | Raywatch |
| | Cokes in Cologne/Köln |
| | The Cure & many special guests - Goodbye to Most Wanted |
MTV Asia

Most Wanted ended in Europe in 1995. However, the show concept is still being used today. Did you know that MTV Asia broadcasts a funny little show called.... Most Wanted !!!! Yes, that's right !! For more information, please visit MTV Asia.
Ray speaks about Most Wanted:
I think that you can explain the success of Most Wanted very easily. The programme is a relief between all those other pre-recorded shows. It introduces viewers to the reality: Most Wanted has some kind of 'Hey! Everyone makes mistakes. MTV VJ's aren't as special as you might think. Look I'm losing my hair and I tell bad jokes!' We show that MTV isn't a smooth running machine, but a channel that makes many mistakes. I find that human aspect very important.
During the Most Wanted days I received 2000 letters a day, of which 75 to 80% were from female viewers. I read most of them and I discovered that you can put most of the writers in 3 categories:
| | |
| --- | --- |
| | 14 to 17 year-olds that see me as some kind of pop star. They write that they find the show brilliant and they ask me if I want to marry them. |
| | 18 to 24 year-olds react more to the things discussed or asked on the show. Or they write in with tips and constructive criticism that I take very seriously. |
| | Writers who describe in great detail how they want to spend a night with me and they attach a revealing photo. Maybe it's my own fault for flirting with the viewers. |
More Reading:
Fan Talk:Ray in Cologne (17th August 1995)
Fan Talk: In the studio
Interview: Naughty Nina
Interview: Pathetic Insights
Interview: Rob, the cameraman