MTV's X-Ray Vision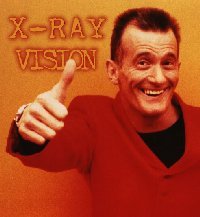 Only 3 months after we said goodbye to MTV's Most Wanted, Ray Cokes came up with MTV's X-Ray Vision: a bigger show in a bigger studio with a bigger live audience and the show was co-hosted by Naughty Nympho Nina (the floor manager on Most Wanted) and Pathetic Pat. But the show was too packed!
On the 21st of March 1996, Ray returned to our screens with the same concept as Most Wanted but bigger and "better". The many new ideas were almost all based on popular concepts of the predecessor: Club Bed 2, Wheel of Misfortune, Get Granny, the Great Outdoors, ...
In each episode there were 2 guests performing live (each did 2 songs) and although we had only 9 live episodes the list of guests is impressive: Lenny Kravitz, Boyzone, The Cranberries, Eros Ramazotti, Jovanotti, Dog Eat Dog, K's Choice, The Levellers, Manic Street Preachers and last but not least Tina Turner and White Zombie.

My favourite item was The Wheel of Misfortune. The idea was based on the bingo wall of death, but this time Ray had the ability to stop the wheel in his favour: it almost always stopped on sex. The dare devils that underwent those nasty questions were Robbie Williams, Dolores (Cranberries), Richard E. Grant, George Clinton, ...
The Great Outdoors was Ray's entrance to some very cool places all over Europe for example Karen Mulder's Bedroom, INXS' recording, Lenny Kravitz hotel room, Take That's secret location and a sex dungeon in Amsterdam (kinky!). Man on the telly - as seen on TV - was another chance to meet people all over Europe: meeting Blur on a boat in Amsterdam, flirting in the toilet of an Irish Pub, talking to Tina Turner backstage, ... Ray could go anywhere thanks to these 2 new items.
The only item that really sucked was Get Granny. Get Granny gave Europe the chance to dispose of those ugly gifts from Granny. It didn't work, so they cancelled after a couple of tries and they brought back Clean Our Souls, in which you could get rid of your ex-boyfriend's memorabilia and of course the stories behind those goods are much more interesting.
The new timeslot (every Thursday from 22.00 till 23.30 CET) gave the crew the ability to do more daring and naughtier stuff. For example on the first show 2 girls were asked to swap their tops under the table in the Hard Rock Cafe in Berlin and they did it! The climax of naughtiness came in the last show, when a girl had to find her boyfriend out of 3 guys by going inside their trousers and touching their private parts (If you are worried: we didn't see a thing.). Another sexy item was the X-Rated TeleVision in which a videotape was shown of a boy and a girl doing a romantic striptease, but as always Ray didn't show us full nudity (he kept those scenes for own viewing!).
The first show was total mayhem as everything went wrong (what's new?): Nobody picked up the phone, camera feeds didn't come through, Blur was stoned in Amsterdam, the live connections didn't go very smoothly and by the end the jokes were coming: "Your watching X-Ray Vision for the first time. Can you tell?", "We already fired 10 people tonight...", "God, I aged 50 years tonight!", "Apparently we did a pilot and by mistake it went on air." But that first time wasn't all bad: Lenny Kravitz played a great set and Robbie "My body is pure sex" Williams was great on the wheel. Robbie only showed his belly this time and he made some great jokes: When Ray asked "What name do you use for your private part?", Robbie answered "Gary (Barlow - another member in Take That)".
Show 3 (April 4th) went smoothly and it was a bit of a boyband special: Boyzone performed in the studio and Ray had to say goodbye to good friends Take That (it was their last night together, before splitting up). Nina took the boys' breath away and then they gave the breath away in a competition (talkin' about a great price?!?). Shane and Keith from Boyzone were on the wheel: Ray asked "When was the last time that you had sex?" and Shane answered "I'm still a virgin." (yeah sure!), a bit later Ray asked Nina: "Are you a virgin too?" and she answered "Yes, I am as much as Shane is."

On May 9th X-Ray Vision came live from Hamburg. It became the worst show in Ray's career: the crew were booed away and thrown at with bottles of beer. With only 2 days advance notice Ray and the crew were able to put together this live show, but it didn't become the triumph that they received last year in Cologne. Ray was unable to control the drunk people in the audience and not even Dog Eat Dog or Die Toten Hosen were able to change the mood. Ray must have been extremely angry and sad, but Nina calmed him down backstage. Only 75 minutes into the 2 hour show Ray pulled the plug and decided to stop (whatever the consequences were...)
The last X-Ray Vision was broadcasted a week later (16th of May 1996). White Zombie and Tina Turner were musical guests, George Clinton underwent the wheel and we saw Ray performing "Simply sexy" live with a metal band on some festival. At the end, Ray said goodbye to his crew and viewers:
Don't expect anything, because I've done a lot of end of series. Most Wanted, which was dear to our hearts because of you at home making it so special, but let's face it: it was a lot of crap really and then Wicked Will came along and made it fantastic. Well, you saw the end of show parties: they were sad and happy at the same time. This one is just sad, but I have far too many adrenaline pumping in my body at the moment to feel sad, but I'm sure I'll feel afterwards ...
He also made it clear that it would probably be the last time that we saw him on MTV. At the end of the last show, Ray disappeared with Naughty Nina into the sunset, while playing 'Everybody Hurts' (REM). MTV wasn't the same anymore without him.
MTV released an official statement a week later saying that the cancellation of X-Ray Vision had nothing to do with the Hamburg mess and that MTV was negotiating with Ray Cokes about a new show...
What happened exactly? Well there are different reasons why X-Ray Vision was cancelled. These are the 3 most important ones:
It lacked the finances required
Ray quit after the Hamburg fiasco (he lost his confidence in MTV)

Quote
"People do really win on MTV, unless you are a tv presenter called Raymond Cokes, then you are just a loser!"

Ray Cokes (after he announced the last competition winners)
More Reading:
Fan Talk: My day with Ray (account of the last X-Ray Vision)
Interview: Naughty Nina
Interview: Pathetic Insights