Ray's Friends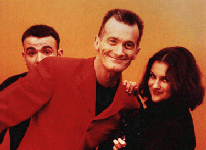 During his career Ray has worked together with a lot of people. In the world of televion it is very hard to start any friendship because most people go seperate ways after a production and are too busy with their current work. However, there are two perons with whom Ray has always remained close friends throughout his career.

Naughty Nina and Pathetic Pat started working with Ray during the days of Most Wanted. After X-Ray Vision Ray left MTV and started a radio show called Voll auf Cokes together with Nina. A couple of months later Ray started presenting Wanted. Guess who where part of the Wanted Team? Yes, you're right: Nina and Pat! What's up next? We don't know yet, but there's a good chance Nina and Pat will be in Rays new show.
One other special man was Rob, the cameraman. He was Ray's number 1 cameraman from the start of Most Wanted on and his popularity became massive in the next few years. Rob left during the last year of Most Wanted but returned for X-Ray Vision.
There's also a page in this section, where you can learn more about what happened to Ray's ex-crew members .